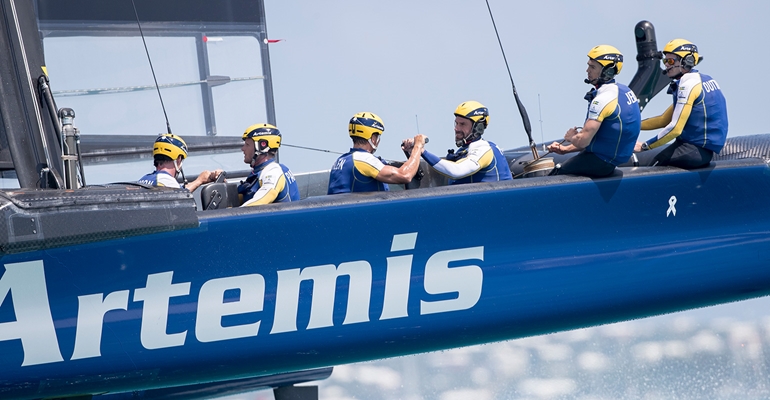 Artemis Racing
ALAMEDA, 17 February 2015 - Artemis Racing, representing KSSS (The Royal Swedish Yacht Club) are looking for dedicated, ambitious and skilled students from all over Sweden to join their four month internship program at the team headquarters in California, USA.
The successful applicants will be given a professional role in either the Sailing Team, Design, Engineering, Shore, Build, or Marketing departments. Artemis Racing will provide housing, and a weekly allowance.
Ideally applicants will have a relevant degree, or will be near completion of a degree, and aged between 21-25 years old.
Iain Percy, Team Manager, commented "Our internship program will provide candidates with a true insight into the inner workings of a professional America's Cup team. One big misconception is that the America's Cup, and the wider maritime industry, is just a career path for sailors, but our profession provides opportunities across a broad range of disciplines, with sailors making up a small percentage of our overall head count at Artemis Racing. We hope to find talented young people in naval architecture, yacht design, computer science, mathematics, business, or marketing; and provide them with an inspiring first step into this incredible industry that we work in."
Artemis Racing has chosen top recruitment agency Novare to ensure the right candidates are selected. To apply please send your full résumé and a cover letter in English to Axel Hillelson at axel.hillelson@novare.se.
Please note that Novare will continuously accept application but for the first group of Interns the application period ends at 12.00 noon on the 15th of March 2015. The first Interns are expected to arrive in California in and around mid-June 2015. After that we expect a new group of Interns to leave Sweden every 4 months.
Should you wish to apply for a specific period, please be sure to clearly state your preferred dates in your application.
All applicants must be Swedish citizens.
For further information regarding the Internship Program please contact Maria Billing, maria.billing@novare.se or +46 708-257557